Legal Name and Sex Designation Change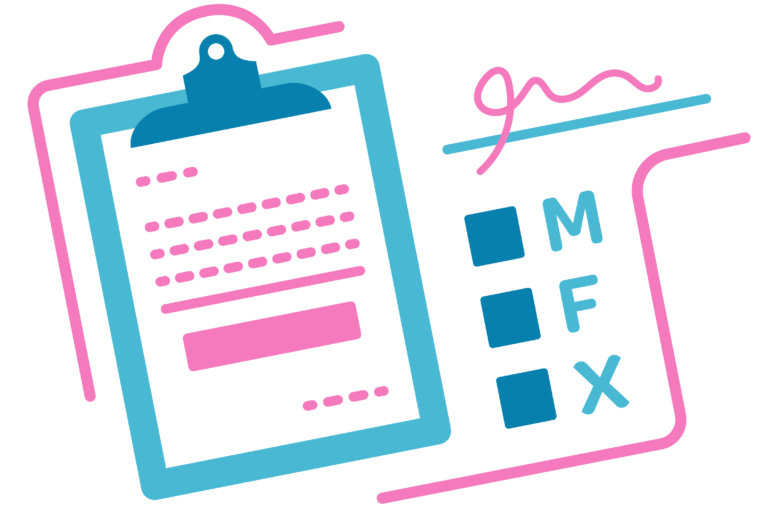 This service is available for adult first name and/or sex designation changes, minor first name and/or sex designation changes, and parental designation changes (being legally classified as "mother", "father" or "parent"), whether you are a Canadian citizen or not.
What does it mean for a name/sex designation change to be "sworn in"?
When a person wishes to change their legal first name and/or sex designation (if it says "M", "F" or "X" on your legal documents), their request must be sworn. That is, a Commissaire à l'assermentation must "approve" the request, confirming that it is true.
Many members of our team are Commissaires à l'assermentation, so they can swear in your application and walk you through the process!

You can either :
fill out the forms yourself, in part or in full, print them, and come to TransEstrie to complete them and have them sworn in;

complete the forms in their entirety at TransEstrie, accompanied by a member of our team.
* This guide does not include the new changes as of June 17, 2022: the possibility for non-citizens to change their first name and sex designation, the fact that changing your name and sex designation is now free, the possibility to choose the sex designation "X", and the possibility for parents to choose the designation "mother", "father" or "parent".
One piece of ID that has a photo and a signature (driver's license, passport, etc.). If you do not have an ID with a signature, bring one with a photo.
Two proofs of address: one less than 30 days old, and one more than 12 months old (phone or Hydro bill, school report card, etc.).
One person with you who knows you for more than one year. This person must also bring a piece of ID with a photo.
A letter from a health care professional (doctor, psychiatrist, psychologist, social worker, sexologist) stating that you are trans, or recommending changing your sex designation.