Gender Affirming Gear Distribution Resource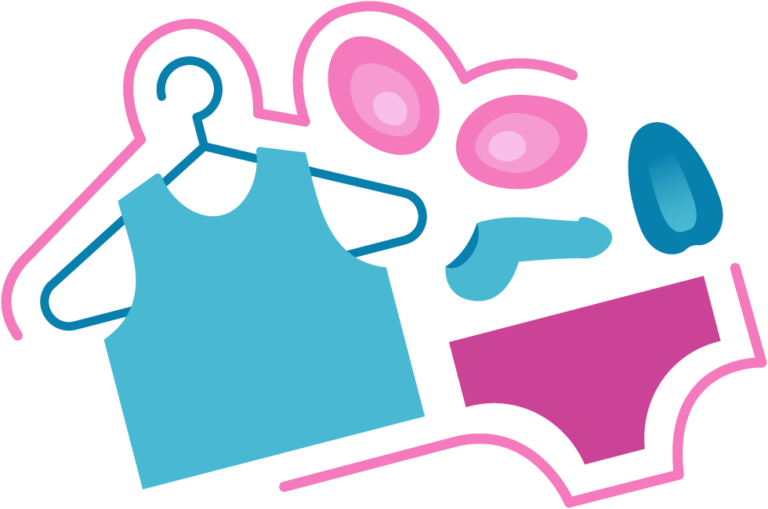 For trans, non-binary and questioning people
The Gender Affirming Gear Distribution Resource provides trans and non-binary people in the Eastern Townships with access to products that are vital to their physical and mental health, but are not widely available in the region. 
Products available include binders, packers, boxers, breast forms, stand-to-pees and gaffs.
To try on and obtain any of these items, make an appointment with one of our staff members at services@transestrie.org, or swing by during one of our drop-in periods.
Items are available for a voluntary contribution that represents the price paid by TransEstrie for the products. We therefore encourage people who can afford it to help us pay for the products, but it is not mandatory. One of the reasons the resource was created was so that people with low income could get the products they need for free.
These products are for trans, non-binary and questioning people only. Therefore, we ask that you do not use this service if you are a cisgender person.
Binders
Packers and boxers
Breastforms
Gaffs
Stand-to-pees
Gender affirming gear for kids
Our Partners
Binders
PRACTICAL INFO
A binder is a compression garment that allows trans boys and non-binary people assigned female at birth to flatten their chests. It is one of the safe ways to compress one's chest. Other means used, such as KT tape and other bandages, can cause serious injury to the rib cage. Another safe alternative, but one that we do not regularly stock, is Trans Tape (https://transtape.life/). We can order some for you if you are interested in this product.
Even though wearing a binder is relatively safe, there are certain rules that must be followed in order not to damage your health:
Set aside time during the day to stretch and breathe deeply
Stay well hydrated and cool when wearing a binder in the summer
Do not wear a binder that is too small
Do not wear a binder for more than eight hours at a time
Do not wear a binder while sleeping
Do not wear a binder if you have a cold, flu, bronchitis or any other infection that affects the lungs
Do not wear a binder while doing cardio (running, cycling, etc.)
Do not wear a binder for weight training or wear a larger size binder
Stop wearing the binder and consult a doctor if you experience prolonged pain
These rules can be difficult to follow at any time, especially when you are spending long days at school or work. Here are some tips for managing breast dysphoria without wearing a binder:
Wear a sports bra
Wearing layers of clothing
Wear loose clothing, such as an open shirt over a t-shirt
Wear dark clothing, or clothing with a large pattern/drawing
It is recommended that binders be washed in cold water and hung out to dry. The more you wear a binder, the softer it gets. However, it is possible to put it in the dryer to shrink it a bit.
It is possible to wear a binder for bathing, but this can damage it over time. If you wear a binder for swimming, wear one that is a size larger than you would normally wear.

AVAILABLE MODELS
We stock half binders, tank binders and racerbacks.
Packers and boxers
Breastforms
Gaffs
Stand-to-pees
Gender affirming gear for kids
Our Partners
| | | |
| --- | --- | --- |
| Articles D'Affirmation du Genre | | |
| | taille: xs | |
| | taille: xxs | |
| | | |
| | | |
| | | |
| | | |
| | | |
| | | |
| | | |
| | | |
| | | |
| | | |
| | | |
| | | |
| Soft Packers | brand: Banana Prosthetics | 0.0 |
| | | |
| Soft Packers | | 0.0 |
| | brand: Banana Prosthetics | |
| | | |
| | | |
| Soft Packers | brand: Banana Prosthetics | 0.0 |
| | | |
| Soft Packers | | 0.0 |
| | brand: Banana Prosthetics | |
| | | |
| | | |
| Soft Packers | brand: Banana Prosthetics | 0.0 |
| | | |
| Soft Packers | | 0.0 |
| | brand: Banana Prosthetics | |
| | | |
| | | |
| Soft Packers | brand: Banana Prosthetics | 0.0 |
| | | |
| Soft Packers | | 0.0 |
| | brand: Banana Prosthetics | |
| | | |
| | | |
| Soft Packers | brand: Banana Prosthetics | 0.0 |
| | | |
| Soft Packers | | 0.0 |
| | brand: Banana Prosthetics | |
| | | |
| | | |
| Soft Packers | brand: Banana Prosthetics | 0.0 |
| | | |
| Soft Packers | | 0.0 |
| | brand: Banana Prosthetics | |
| | | |
| | | |
| Soft Packers | brand: Banana Prosthetics | 0.0 |
| | | |
| Soft Packers | | 0.0 |
| | brand: Banana Prosthetics | |
| | | |
| | | |
| Soft Packers | brand: Banana Prosthetics | 0.0 |
| | | |
| Soft Packers | | 0.0 |
| | brand: Banana Prosthetics | |
| | | |
| | | |
| Soft Packers | brand: Banana Prosthetics | 0.0 |
| | | |
| Soft Packers | | 0.0 |
| | brand: Banana Prosthetics | |
| | modèle: SP4 2.5 in / 5.5 cm | |
| | | |
| Soft Packers | brand: Banana Prosthetics | 0.0 |
| | modèle: SP4 2.5 in / 5.5 cm | |
| Soft Packers | | 0.0 |
| | brand: Banana Prosthetics | |
| | modèle: SP4 2.5 in / 5.5 cm | |
| | | |
| Soft Packers | brand: Banana Prosthetics | 0.0 |
| | modèle: SP4 2.5 in / 5.5 cm | |
| Soft Packers | | 0.0 |
| | brand: Banana Prosthetics | |
| | modèle: SP4 2.5 in / 5.5 cm | |
| | | |
| Soft Packers | brand: Banana Prosthetics | 0.0 |
| | modèle: SP4 2.5 in / 5.5 cm | |
| Soft Packers | | 0.0 |
| | brand: Banana Prosthetics | |
| | | |
| | | |
| Soft Packers | brand: Banana Prosthetics | 0.0 |
| | | |
| Soft Packers | | 0.0 |
| | brand: Banana Prosthetics | |
| | | |
| | | |
| Soft Packers | brand: Banana Prosthetics | 0.0 |
| | | |