Gender Affirming Gear Distribution Resource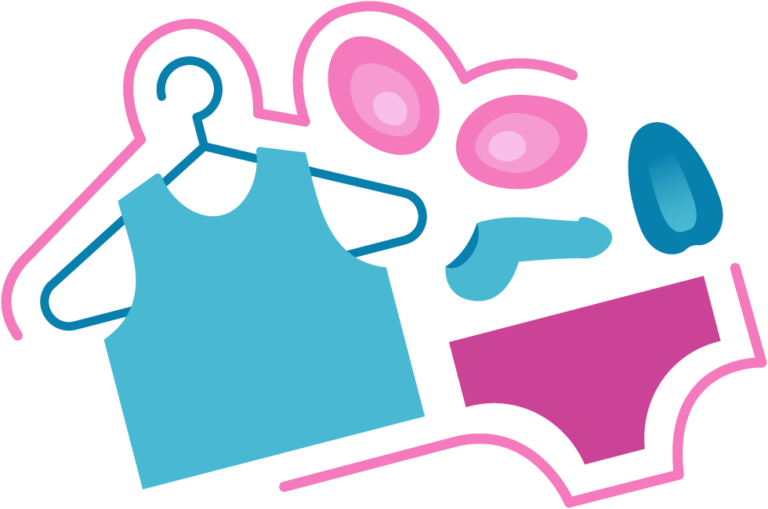 For trans, non-binary and questioning people
The Gender Affirming Gear Distribution Resource provides trans and non-binary people in the Eastern Townships with access to products that are vital to their physical and mental health, but are not widely available in the region. 
Products available include binders, packers, boxers, breast forms, stand-to-pees and gaffs.
To try on and obtain any of these items, make an appointment with one of our staff members at services@transestrie.org, or swing by during one of our drop-in periods.
Items are available for a voluntary contribution that represents the price paid by TransEstrie for the products. We therefore encourage people who can afford it to help us pay for the products, but it is not mandatory. One of the reasons the resource was created was so that people with low income could get the products they need for free.
These products are for trans, non-binary and questioning people only. Therefore, we ask that you do not use this service if you are a cisgender person.
Gender Affirming Gear Guide (in french)
Want to learn more about gender-affirming items, how to care for them and how to use them safely? We've created a guide for you! If you pick up a gender-affirming item in person, we'll give you a brochure with all the information you need.
As of now, this guide is only in French. Until we translate it, you can find some of the helpful info from the guide in the section below.
Binders
Packers
Breastforms
Gaffs
Stand-to-pee
Binders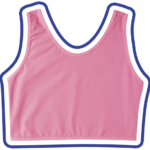 A binder is a compression garment that flattens the shape of the chest to create a flatter torso. The garment resembles a camisole or sports bra, and can either cover half the torso (half binder) or the entire torso (tank binder). This can help reduce gender dysphoria and bring a sense of euphoria and well-being.
AVAILABLE MODELS

We distribute Banana Prosthetics Melon Squeeze binders in sizes XS to XXXL. We also carry a variety of used binders in different models, sizes and colors.
Wearing a binder

The binder is worn under clothing, like a bra, so it isn't very visible. However, depending on the cut of the top you're wearing, part of the binder might show through the collar. If your top fits very snugly, you might see the outline of the binder through it.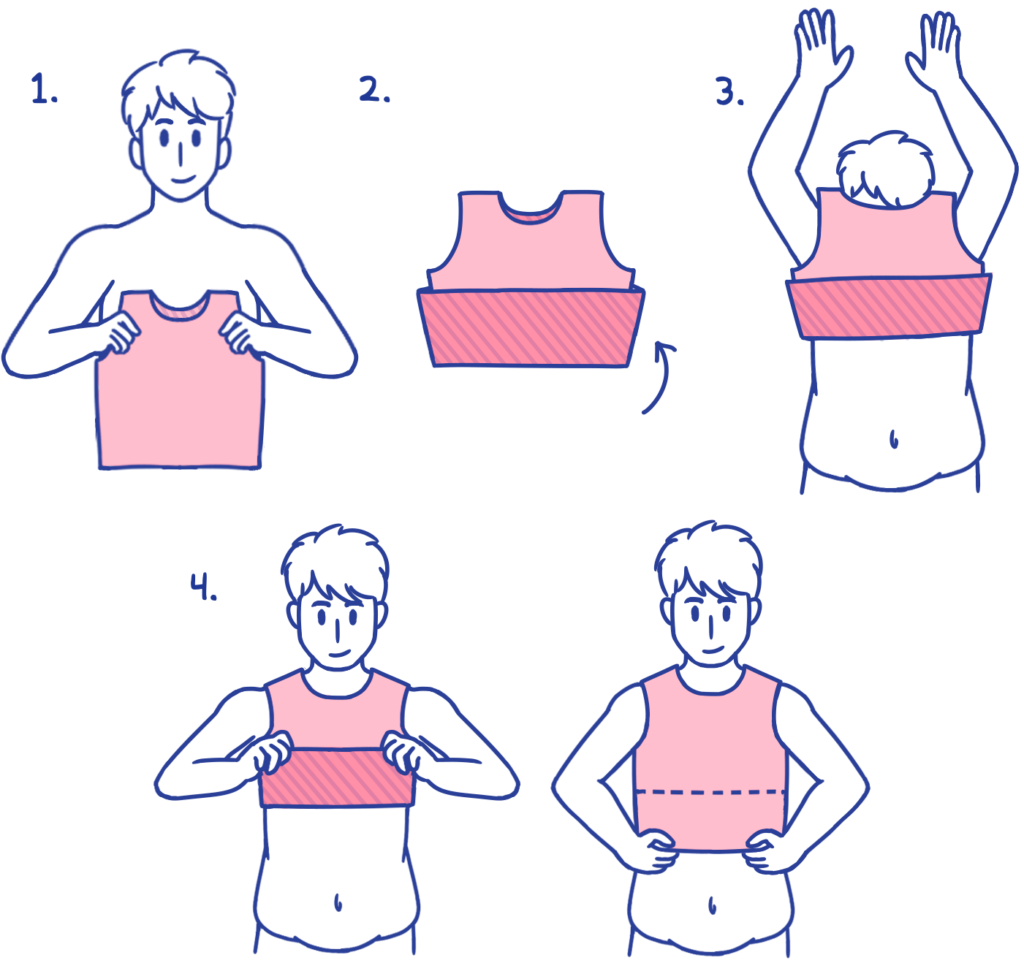 Here's one way to easily put on a binder :

Take the binder,
Fold binder in half,
Enter arms and head into binder,
Unfold the binder, making sure your chest is at a comfortable angle (i.e. not pulled down, for example).
Safety rules

Since this is a piece of compression clothing, certain safety rules must be followed to make sure you don't injure yourself. Wearing a binder incorrectly can cause:
Damage to internal organs, such as the lungs;
Risk of cracking or breaking ribs;
Restricted breathing;
Damage to breast tissue; skin irritation.
To avoid these complications, there are a few precautions you should take:
Don't wear it for more than 8 hours at a time (take breaks during the day);
Do not sleep with your binder;
Don't try to put on a wet binder (you'll get twisted and stuck! Make sure your skin is dry!);
Don't wear the binder 7 days a week (take days off);
Make sure you can breathe well (when you wear the binder, you should be able to fill your lungs without feeling that the binder is restricting you);
Don't do cardio while wearing a binder;
Don't wear a binder on the plane.
The important thing is to listen to your body! If the binder hurts or makes breathing too difficult, take it off.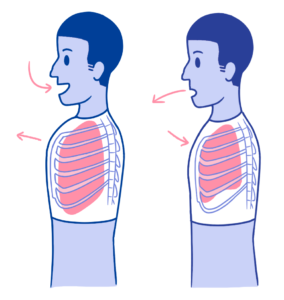 Washing your binder

If you want to wash your binder in the washing machine, we recommend setting the wash cycle to the "delicate" option. Water can be either hot or cold, and you can use ordinary laundry detergent. Cold water is recommended to keep the binder in a good condition for as long as possible.
If you're washing the binder by hand, use a little laundry detergent or liquid dish soap in hot or cold water. When rinsing your binder, make sure that all the soap comes out of the fabric and that the water that comes out is clear and bubble-free.
We recommend that you let the binder air-dry to keep it in good condition. Binder should be completely dry before being stored, to avoid any unpleasant smells. If the binder stretches out after wearing it a lot, you can put it in the tumble-dryer for fifteen minutes or so. But only do this a few times, otherwise it will lose its elasticity. It's normal for the binder's fibers to lose their elasticity with repeated wear, and no longer hold your chest as well. Then it's time to get a new one.
Packers
Breastforms
Gaffs
Stand-to-pee
| | | |
| --- | --- | --- |
| Articles D'Affirmation du Genre | | |
| | taille: xs | |
| | taille: xxs | |
| | | |
| | | |
| | | |
| | | |
| | | |
| | | |
| | | |
| | | |
| | | |
| | | |
| | | |
| | | |
| Soft Packers | brand: Banana Prosthetics | 0.0 |
| | | |
| Soft Packers | | 0.0 |
| | brand: Banana Prosthetics | |
| | | |
| | | |
| Soft Packers | brand: Banana Prosthetics | 0.0 |
| | | |
| Soft Packers | | 0.0 |
| | brand: Banana Prosthetics | |
| | | |
| | | |
| Soft Packers | brand: Banana Prosthetics | 0.0 |
| | | |
| Soft Packers | | 0.0 |
| | brand: Banana Prosthetics | |
| | | |
| | | |
| Soft Packers | brand: Banana Prosthetics | 0.0 |
| | | |
| Soft Packers | | 0.0 |
| | brand: Banana Prosthetics | |
| | | |
| | | |
| Soft Packers | brand: Banana Prosthetics | 0.0 |
| | | |
| Soft Packers | | 0.0 |
| | brand: Banana Prosthetics | |
| | | |
| | | |
| Soft Packers | brand: Banana Prosthetics | 0.0 |
| | | |
| Soft Packers | | 0.0 |
| | brand: Banana Prosthetics | |
| | | |
| | | |
| Soft Packers | brand: Banana Prosthetics | 0.0 |
| | | |
| Soft Packers | | 0.0 |
| | brand: Banana Prosthetics | |
| | | |
| | | |
| Soft Packers | brand: Banana Prosthetics | 0.0 |
| | | |
| Soft Packers | | 0.0 |
| | brand: Banana Prosthetics | |
| | | |
| | | |
| Soft Packers | brand: Banana Prosthetics | 0.0 |
| | | |
| Soft Packers | | 0.0 |
| | brand: Banana Prosthetics | |
| | modèle: SP4 2.5 in / 5.5 cm | |
| | | |
| Soft Packers | brand: Banana Prosthetics | 0.0 |
| | modèle: SP4 2.5 in / 5.5 cm | |
| Soft Packers | | 0.0 |
| | brand: Banana Prosthetics | |
| | modèle: SP4 2.5 in / 5.5 cm | |
| | | |
| Soft Packers | brand: Banana Prosthetics | 0.0 |
| | modèle: SP4 2.5 in / 5.5 cm | |
| Soft Packers | | 0.0 |
| | brand: Banana Prosthetics | |
| | modèle: SP4 2.5 in / 5.5 cm | |
| | | |
| Soft Packers | brand: Banana Prosthetics | 0.0 |
| | modèle: SP4 2.5 in / 5.5 cm | |
| Soft Packers | | 0.0 |
| | brand: Banana Prosthetics | |
| | | |
| | | |
| Soft Packers | brand: Banana Prosthetics | 0.0 |
| | | |
| Soft Packers | | 0.0 |
| | brand: Banana Prosthetics | |
| | | |
| | | |
| Soft Packers | brand: Banana Prosthetics | 0.0 |
| | | |