There are many ways to support TransEstrie financially: either by giving a donation, or by becoming a member. Both have their own advantages!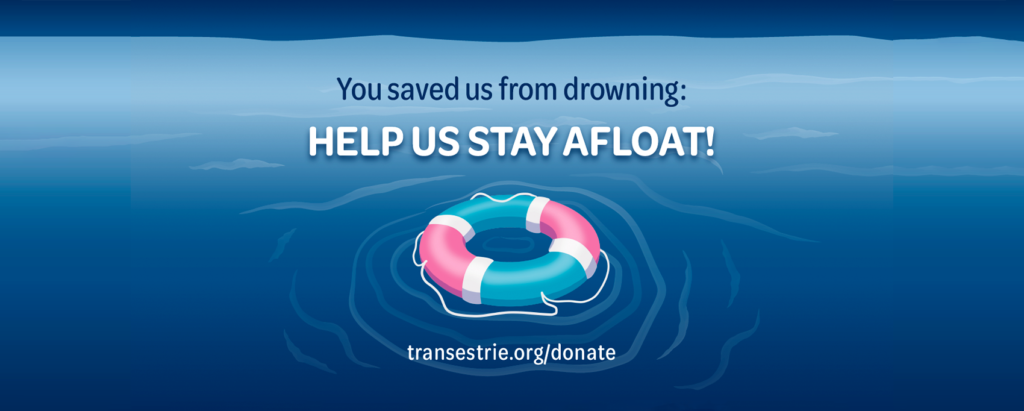 11 027 $ of 25 000 $ collected!
Help us maintain our services in the Eastern Townships for the trans and non-binary community.
Being trans in the Estrie region isn't always easy. It often means getting lost in a labyrinth of services to try to access health care, coming up against the lack of inclusion of many institutions and having to fight daily to have your identity recognized. TransEstrie is here because the trans and non-binary communities in the region need our services and our support to ensure their human rights are respected.
Since 2017, we have distributed nearly 1,000 gender affirming items such as binders, breast forms, packers and gaffs. We have held around 100 meetings of our discussion group for trans and non-binary people, young and old. That's not counting individual counseling, thousands of dollars in grants to pay for name and gender changes, book loans, grocery store cards and more. Each year, hundreds of trans and non-binary people from 7 to 77 years old come to us for essential services.
Since its inception, TransEstrie, which is now a registered charity, has distinguished itself throughout the province, not only by the quality of its outreach, but also by the quality of the content it produces, whether it be its instructional content or its online resources. Its transition guides (legal and medical) are used throughout the province as the number one reference to help trans people and advocates understand the possible paths to transition, helping them to make informed and conscious decisions. In addition, its advocacy work with the Quebec government has led to an exemption from the administrative fees for gender reassignment with the Directeur de l'état civil for anyone making a first-time application. 
Like many 2SLGBT organizations, TransEstrie receives very little recurrent funding to enable it to fulfill its mandate and cover its current expenses. Although we benefit from funding that allows us to set up innovative and unifying projects, these one-time funds do not allow us to ensure the sustainability of the services developed during these projects, after the end of the program. We are very proud of the living environment that takes place in our downtown Sherbrooke facilities and the services we offer. Now we need your help to maintain them!
No donation is too small!
TransEstrie is a registered charity, so any donation of $20 or more will be receipted for income tax purposes.
Here's how each donation helps us accomplish our mission: 
7.50$ pays for a round trip bus ticket to help a young person get to a discussion group meeting.
20$ allows us to offer a packer or a gaff to a trans or non-binary person who cannot afford one themselves.
45$ allows us to offer a binder to a trans or non-binary person who cannot afford one.
75$ allows us to run a demystification workshop in an elementary or secondary school class.
100$ allows us to accompany a young person to a medical appointment.
150$ allows us to hold a discussion group for trans and non-binary people to encourage mutual support.
250$ allows us to hold a drop-in period to provide quick access to on-site help, or simply to bring trans and non-binary people together and develop a sense of community. 
500$ allows us to hold a name and gender change clinic to help trans and non-binary people fill out the necessary legal forms.
Help us better support the people in our communities!
To donate to TransEstrie, fill out this form.
You don't have to be a member to benefit from our services, but joining TransEstrie allows you to support our organization and to be kept informed of all upcoming activities!
The suggested membership fee is $5 for users (trans, non-binary and questioning people) and $10 for allies. Membership is not mandatory, you are welcome to pay whatever amount you can afford.
To become a TransEstrie member, fill this form.