Drop-in periods are from 5pm to 8pm on Mondays and Fridays.

This month, there will be no drop-in on the 2nd and 9th.
The drop-in periods allow you to come to our office without having made an appointment with us.
Whether it's to ask questions to our staff, grab a book, pick up gender-affirming gear, or simply take advantage of our wifi and couches, you will be warmly welcomed!
Café causerie WEBINAR - Medical transition: What? When? How?
August 16th, at noon (exact time to be announced).
Our Café causerie are a time to discuss a different topic each month, sometimes with a guest speaker.
Last month's webinar was all about medical transition: what it means, what it might look like, how to get there, and much more! We're bringing this topic back for a second time, this time in the form of a webinar.
Contact services@transestrie.org for more details.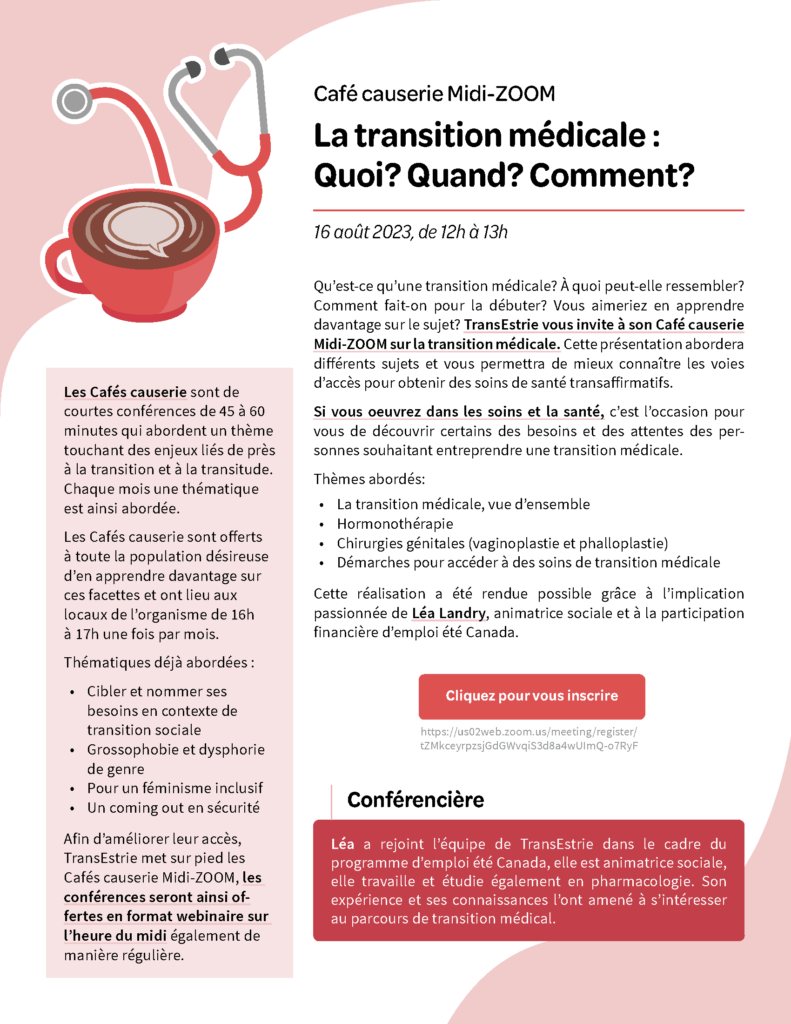 April 25th, from 5 pm to 7 pm.
Our community dinners are an opportunity to connect with others in our communities while sharing a good meal. Bring food to share!
To see the details of an event, click on its name.
MO

TU

WE

TH

FR

SA

SU
25

26

27

28

29

30

1
2

3

4

5

6

7

8
9

10

11

12

13

14

15
16

17

18

19

20

21

22
23

24

25

26

27

28

29
30

31

1

2

3

4

5
Events for October
1st
No Events
Events for October
2nd
No Events
Events for October
3rd
No Events
Events for October
4th
No Events
Events for October
5th
No Events
Events for October
6th
No Events
Events for October
7th
No Events
Events for October
8th
No Events
Events for October
9th
No Events
Events for October
10th
No Events
Events for October
11th
No Events
Events for October
12th
No Events
Events for October
13th
No Events
Events for October
14th
No Events
Events for October
15th
No Events
Events for October
16th
No Events
Events for October
17th
No Events
Events for October
18th
No Events
Events for October
19th
No Events
Events for October
20th
No Events
Events for October
21st
No Events
Events for October
22nd
No Events
Events for October
23rd
No Events
Events for October
24th
No Events
Events for October
25th
No Events
Events for October
26th
No Events
Events for October
27th
No Events
Events for October
28th
No Events
Events for October
29th
No Events
Events for October
30th
No Events
Events for October
31st
No Events